The New EFI Leadership Team from August 2021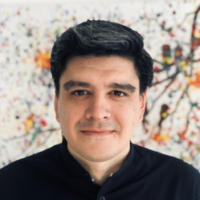 Fabrice Filachet holds a Master degree in science and microbiology and is a French-government certified science teacher. He started his career in 2002 as a secondary school Science and Biology teacher in Paris before taking broader responsibilities as a teachers' trainer, students' counselor and pedagogical coordinator. In 2008, Fabrice was appointed Principal in Saint-Vincent-de-Paul secondary school (a private institution in Paris), supervising 20 classes, 550+ students and 50+ teachers. From 2014, Fabrice moved to an international career as an Education advisor, project manager and country Director for various International organizations in the Middle-east and Asia, where he had the opportunity to work in Cambodia, Vietnam, the Philippines and Lebanon. Along his career, Fabrice wrote several textbooks and designed innovative teaching methods, students and teachers evaluation tools and teaching programs for French and Asian students.   
Fabrice is an experienced and enthusiastic educator and manager. He will bring to EFI his knowledge of the secondary-school French curriculum, his experience of designing innovative programs in an international context and his commitment to enable each child to unleash their full potential in a stimulating and positive environment.
Vice-Principal for Primary School
Jean-François Hébrard started his career in 1994 as a French accredited primary school teacher. He thought mainly in grades 1 to 5 in France, and from 2002 at the French-Australian School in Canberra, Australia, where he started to develop a unique expertise in teaching and developing primary schools' bilingual curriculum. Since then, Jean-François held various positions as a teacher, a coordinator and a Principal in Australia, England, Libya, Morocco and Lithuania. Jean-François has also developed an expertise as a Kindergarten teacher and director, a teachers' trainer, an advisor to the AEFE (the French accreditation body for French schools abroad) for bilingual curriculum and as a specialized teacher for children with special needs.
Jean-François will bring to EFI his experience in developing bilingual French-English teaching, including in the context of blended curriculum, and as a primary school' teacher coach and trainer.