Enrollment for the 2021-2022 school year at EFI are open. We invite you to complete your application form online through the EDUKA platform. To this end, simply follow the link below.
EFI – École Française Internationale de Phnom Penh offers French and English bilingual education, from Nursery to Middle School.
EFI – École Française Internationale is a French-English bilingual school based in Phnom Penh, Cambodia since August 2016. We are a private school that follows the programs set out by the French Ministry of Education, in two languages: 60% of the classes are in French and 40% are in English.
Our students are immersed in a teaching environment specially adapted to suit the diversity of their cultures, languages and their academic journey. The structure of this environment makes it possible to combine the needs of the students in terms of language acquisition, while also setting them on the best academic path to achieve their individual prospects.
EFI shares a campus with CIS – Canadian International School (an English-language school approved by the province of Alberta, Canada) – with which we have developed many partnerships. Our students are therefore immersed in an English-speaking campus that is modern and located right in the heart of Phnom Penh on Diamond Island (Koh Pich).
Today, EFI welcomes almost 170 students spread over 14 classes from Nursery to Grade 8.
From the age of four, our students also have the opportunity of taking up a third language, either Khmer or Chinese Mandarin.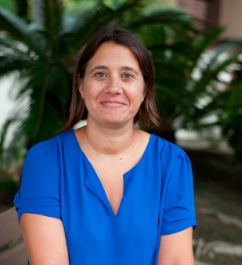 Letter from the Principal
It is with great pleasure that I have been able to discover the EFI school community in recent weeks. Through the exchanges I have had with parents and teachers, I have seen that we all have a common goal: to work together to provide quality education to children. They also seem delighted to be back in school, and are showing a lot of motivation to learn.
EFI has a unique program, a qualified and competent team and a desire to progress and grow.
I am very happy to be able to contribute to its development and to discover a little more this wonderful country, Cambodia.
I wish you all a happy school year.
Over the past 15 years, she has traveled the world to pursue her passion for travel and education. It has led her to work in the US, Australia, Nepal and China, implementing a variety of curricula. Through the years, she has served in different capacities: as a teacher, a coordinator and a director. An engaging educator who is always striving for excellence, Nadege aims, with her team, to empower students to reach their full potential in the School's bilingual environment.