Are there specific teaching methods employed by EFI? It is a question often asked by parents and to which there is no simple answer. The diversity of our students' scholarly paths does not lend itself to any particular method, and so it falls upon the experience of our teachers to adapt the methods according to different contexts.
Each year, we offer our teachers training in innovative and proven pedagogical methods, such as Montessor or Freinet. However, it is more for inspiration than for fully adopting these methods and using them in our classes. The teachers at EFI bring with them their own experience and the diversity of their different teaching techniques that they use with the students coupled with the diversity of learning methods that they implement will help support the interests of all the students, reactivate their knowledge and promote learning.
We respect first and foremost three main principles in all our classes: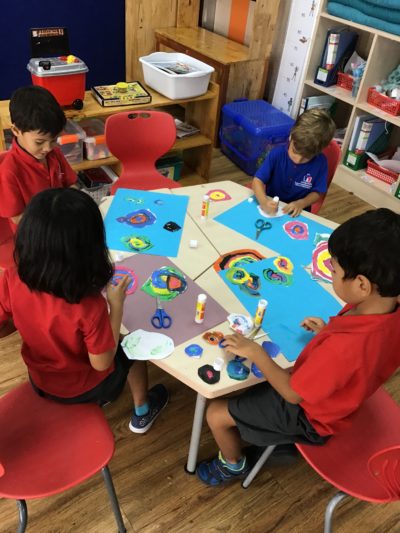 Group work and putting students to work independently or in guided workshops are particularly important for language acquisition. Working in pairs allows for experimentation and trial and error. Projects create synergies between students, meeting situations and exchanges in French or in English.
Students will work sometimes in one language, sometimes in another in order to produce a collective result in the two languages. A poster, a leaflet, a compilation, a comic, a book, a show, a presentation, an artistic or scientific project etc. The project can take place over one day, one week, one month or a trimester. The projects demand that everyone cooperates and divides up tasks and responsibilities. Finally, the projects allow students to approach different subjects in a multidisciplinary way.
2. Kindness
In order to learn, students must feel that they are in a safe and trusting environment. When adults are kind to their students they put them in a situation where they feel comfortable to express themselves and to speak up and to have exchanges. This is even more essential when the student has not fully mastered the working language and can be hesitant to speak up.
This kindness does not only apply to the adults: At EFI, the children learn to be kind to each other, that is to say, to listen, to respect and to help each other.
Our teaching staff implements affirmative discipline in cycles 2 and 3 after training sessions delivered by a teacher specializing in the teaching techniques of Freinet.
3. Multidiscipline
There are many ways to learn. Arts, sport, school trips, shows or presentations… these are all vectors of learning and personal development for children.
The quality and diversity of learning on offer by our partner CIS in terms of sports, arts and music is a source of inspiration for EFI, and this shows with the high quality of infrastructure offered on our campus. Learning through sport, arts and music are provided at EFI by specialized teachers and is one of the main development priorities of our academic project since 2020.