The French curriculum at Primary & Middle School level operates in four cycles:
Cycle 1: Preschool – Petite section (PS) – Pre-Kindergarten, Moyenne Section (MS) – Junior Kindergarten, Grande Section (GS) – Senior Kindergarten
Cycle 2: Cours Préparatoire (CP) – Grade 1, Cours Elémentaire 1ère année (CE1) – Grade 2, Cours Elémentaire 2ème année (CE2) – Grade 3
Cycle 3: Cours Moyen 1ère année (CM1) – Grade 4, Cours Moyen 2ème année (CM2) – Grade 5, 6ème – Grade 6
Cycle 4: 5ème – Grade 7, 4ème – Grade 8, 3ème – Grade 9
High School is the last phase of the French curriculum. It includes Seconde – Grade 10, Première – Grade 11 and Terminale – Grade 12 classes. At EFI High School students take the IGCSE exam in Seconde – Grade 10.
Before Cycle 1 – TPS / Nursery
In TPS, we are particularly committed to the well-being of the child and the respect of his physiological, relational, emotional, cognitive and educational needs: rhythm of life, development, fundamental learning, motor skills, hygiene and cleanliness, protection and safety, diet, nap, etc.
We organize and implement bilingual French-English learning based on manipulation, experimentation and play and allowing the child to exercise his motor, sensory, affective, relational and intellectual capacities to gradually become an autonomous and socialized.
Programmes for Kindergarten classes – cycle 1
In the French program, cycle 1 is centered on 5 learning outcomes:
Utilise the language in all its dimensions

Act, understand and express yourself through physical activity

Act, understand and express yourself through artistic activities

Build the foundational tools needed to structure your thinking

Explore the world
From a very early age, children begin to develop their identity. This key period is crucial and lays the foundations of their learning and behaviour for the rest of their life. EFI therefore considers it of the utmost importance to document the work done with the students in partnership and understanding with their families. In our school, we emphasise the holistic development of young children. This process considers many dimensions: neurological, psychomotor skills, social and emotional, cognitive and language skills. To guarantee the well-being and support the development of the child's full potential, we favour a stimulating and varied environment in which the children can pursue each and every facet of their development, via the interaction and participation in activities designed to awaken all their senses.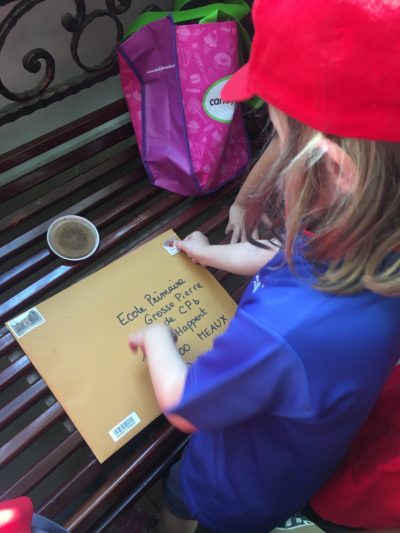 At EFI we will promote intellectual learning, artistic skills, relational sensitivity and emotional richness. Children possess a natural curiosity that the school must not only maintain, but also feed. This is why we believe it is important to stimulate and reinforce the child's desire to progress in a fun way, with play and exploration being the natural vehicles for early childhood learning. It is also essential to engage the students to give them a sense of living and interacting in a community. This involves introducing new rules of socialisation (helping each other, waiting their turn, etc). Preschool is often the child's first experience of being in a community outside of the family. In preschool class, children will learn to structure their environment, which will help them to structure their thinking. At this age, children tend to be scattered and bring together multiple activities that they start but rarely finish. So, structuring an environment of young children in fact serves to grant them greater autonomy. Step by step, EFI provides children with the means to gain self-confidence, to learn in a group, to acquire skills and, quite simply, to learn to love school.
EFI's educational program is bilingual with French and English, that is to say that it is a single program, respecting the objectives set by the French National Education. Nevertheless, it will be enriched by certain specificities from the English system, linked notably to the teaching of language proficiency and to English-speaking culture. With their two teachers, students will be able to discover two different linguistic and cultural universes. Teaching the students the concept of taking pleasure in learning and respecting the rhythm of their individual development by offering everyone the necessary support are principles at the heart of our philosophy. If a child has the opportunity to be immersed in a harmonious environment favourable to development and personal growth, they will have all the bases necessary to build their educational and academic successes. Games, experiments, observations, individual or collective autonomous activities are all exercises that shape the knowledge and skills of students. Ultimately, EFI aims to give them a range of tools that will allow them to realise their potential on a personal level and, later, on a professional level.
Programs for elementary classes – cycle 2
Cycle 2 involves fundamental learning.
This includes:
French

English

Mathematics,

A third language (at EFI this is a choice between Khmer or Chinese Mandarin) for the children who have acquired French and English

Arts

Physical education and sports

Moral and civic education

Questioning the world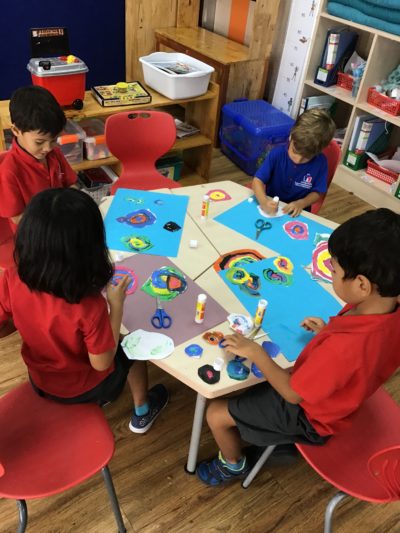 To study at school means questioning the world. It also means acquiring specific languages: French, English, the language of maths, sciences and computing, and the language of arts and of the body.
The mastery of languages, notably that of the French language, is key.
The acquisition of fundamental knowledge (reading, writing, arithmetic, respecting others) is the priority. For this, the teaching must be particularly structured and explicit. It is not only about giving meaning to what is learned, but also about seeing that learning progress.
Classes are therefore organized around constant repetition of knowledge while it is being acquired, coupled with differentiated learning. It is a question of taking into account the particular educational needs or certain pupils who require specific educational arrangements.
At the same time, we try to construct an understanding of autonomy in the students. An understanding of both concrete and abstract concepts are developed in the students through observation, action, manipulation and experimentation. They are encouraged to work out what they already know and know how to do, as well as reflecting while learning. They learn how to carry out the fundamental school activities that will help them all through their time at school. Furthermore, they learn to justify rationally.
Programmes for consolidation classes – cycle 3
Cycle 3 involves the consolidation of learning.
This includes: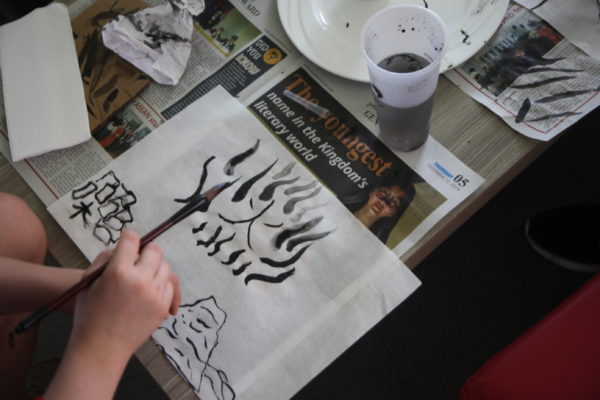 French
English
A third language (At EFI this is a choice between Khmer or Chinese Mandarin) for the children who have acquired French and English
Visual arts
Music
Art history
Physical education and sports
Moral and civic education
History and Geography
Science and Technology
Mathématics.
Cycle 3 connects the two final years of primary school and the first year of middle school, with a reinforced focus on educational continuity and consistency of learning with regards to the acquisition of the common foundation of knowledge, skills and culture.
This cycle has a double responsibility: On one hand, it will consolidate the acquisition of fundamental knowledge (reading, writing, arithmetic, respect for one another) that was begun in cycle 2 and that conditions subsequent learning. On the other hand, it will allow for a smoother transition between primary school and junior high school by ensuring a continuity and progressiveness between the three years of the cycle. The program readies students for the end of the cycle and already-learned skills and knowledge. Teaching must be structured, progressive and explicit, as well as differentiated in order to promote the success of students.
The class of 6e (grade 6) has a special role in the cycle: it allows the students to adapt to the rhythm, organization and general environment of junior high while continuing the learning that was started in CM1 (grade 4) and CM2 (grade 5). Cycle 3's program also allows for a gradual and natural transition to different disciplines and introduces the terminology, the approaches and the specific methods related to them.
More generally in cycle 3, students gain access to more abstract thinking that promotes reasoning and its implementation in more complex tasks. They are encouraged to act responsibly and to cooperate by doing projects, creating and producing a significant number of writings and by undertaking a variety of different tasks of all kinds.
The media and IT education implemented since Cycle 2 will allow students to become more familiar with a question-style approach in the various fields of study. They are led to develop a keen sense of observation, curiosity, critical thinking and, more generally, autonomy of thought.
Programs for Middle School and High School
EFI grows along with its students and each year  a new grade is added. For the 2019-20 school year, we opened the door of Middle School with a 6e/Grade 6 class. From 2022 our 3e/Grade 9 students will take the "Diplôme National du Brevet" – the French Middle School National Diploma in partnership with CNED. 2022-2023 is the year of the creation of the High school with the opening of a 2nd/Grade 10 and, through our accreditation with Cambridge International, our High School students will take the IGCS test. Finally, it is in 2025 that EFI will have its first Baccalauréat (High School Diploma) graduated students.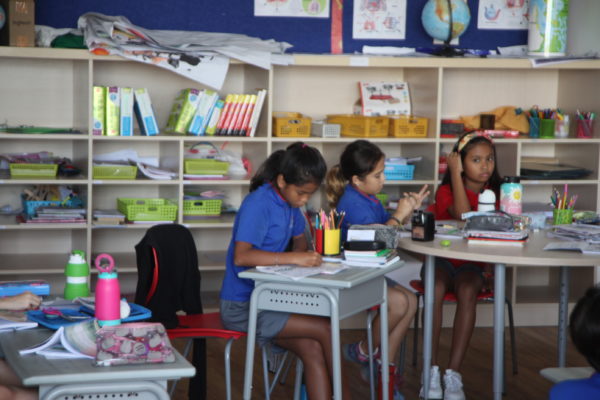 During the Seconde – Grade 10 year, students  strengthen their knowledges and make academic choices for the Première – Grade 11 class regarding their skills and their wishes.
EFI's academic project remains of course unchanged with the opening of the High School: our students will continue to follow the structure of the educational programme of the French Ministry of National Education and of Cambridge International in order to prepare for the Baccalauréat (high school diploma), in an French-English bilingual environment.
Age and grade equivalence between French and English systems